INFRES Methodex Pvt. Ltd.

Established in 1987, INFRES Methodex Pvt. Ltd. - with its corporate office in New Delhi and a direct marketing presence in over 80 locations spread across India - is well entrenched in the Office Automation and Banking / Currency Automation arena. The Company's products, services and energies are all geared towards the enhancement of the business efficacy of our customers.


Our Founder and Chairman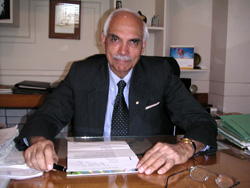 "As a relatively small, closely held, cohesive, "homegrown" Office Automation, Business Machines, Banking / Currency Automation Company, we are committed to providing state of the art products to discerning buyers in all market segments.

Our passionate adherence to quality and service has been primarily responsible for our excellent overseas business associations, from which we derive inspiration for the constant refinement of our organisational processes.

Unflinching adherence to customer satisfaction and employee motivation are key factors of our corporate philosophy. Our Managers are encouraged to exercise initiatives and develop entrepreneurial attitudes to benefit our customers, our organisation and themselves.

We are constantly seeking new pastures in related and unrelated fields.

The precept "small is beautiful" appropriately epitomises our organisation.

It is my cherished hope that this website will further strengthen our bonds with all stakeholders including our customers, our suppliers / business associates, our own very dear colleagues, and our shareholders.

Thank you very much for your interest in "INFRES"."


M. N. Katariya

Corporate Philosophy
The Company's founding philosophy, as manifested in its products and international affiliations, portrays the belief that information is the most important resource for effective management of organised endeavour... be it the duplication / reproduction of information, its storage or retrieval, or even its destruction. The word
INFRES
(Information Resources) encapsulates this philosophy.
Today, we have extended this philosophy and our motto is: "Enhancing Business Efficacy" by any means... through products and services that enable better information resource management, Banking / Currency automation and products and services that enhance business efficacy in any other way.

The Organisation
The Company's structure, kept under constant review, comprises well defined functional departments, each handling a specific facet of the operations that go into building an organisation dedicated to complete customer delight.



Corporate Culture
With a strong corporate culture of qualitative excellence, and cordial staff and customer relations,
INFRES
is well poised to meet the challenges of the liberalised, fiercely competitive twenty first century. We constantly strive to be professional in all our interactions and dealings, and maintain the highest standards of honesty and ethics.
Our Strengths
Looking Ahead
We are constantly identifying opportunities for enriching our range of products and services, as also incorporating the latest state-of-the-art technology, thereby ensuring customer orientation in our never ending quest to be a truly vibrant and multi-faceted Office and Banking / Currency Automation company.